North St Paul High School
Class Of 1969
In Memory
Lois Gutzmer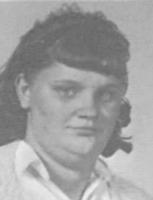 March 31, 1951 - May 21, 2000
Lois Gutzmer Morse
Lois A. Morse, 49, of Isanti, died suddenly May 21, 2000 at Cambridge Medical Center.
Memorial services have been scheduled for 7 p.m. Thursday, May 25 at Strike Funeral Home-Isanti Chapel with Chaplain Paul Reynolds officiating. Visitation will be held one hour prior to the service.
She was born March 31, 1951 in White Bear Lake to Ralph and Helen Gutzmer.
She was preceded in death by her father, Ralph Gutzmer.
She will be lovingly remembered by her husband, Robert of Isanti; mother, Helen Gutzmer of White Bear Lake; brothers, Otto (Diane) of White Bear Lake; Lloyd (Peggy) of Mora and sister Elaine (Jerry) Hendrickson of Ft. Worth.
Source: http://www.genealogybuff.com/mn/isanti/webbbs_config.pl/noframes/read/11