North St Paul High School
Class Of 1969
In Memory
Rodney Nygren
October 9, 1951 - May 18, 2017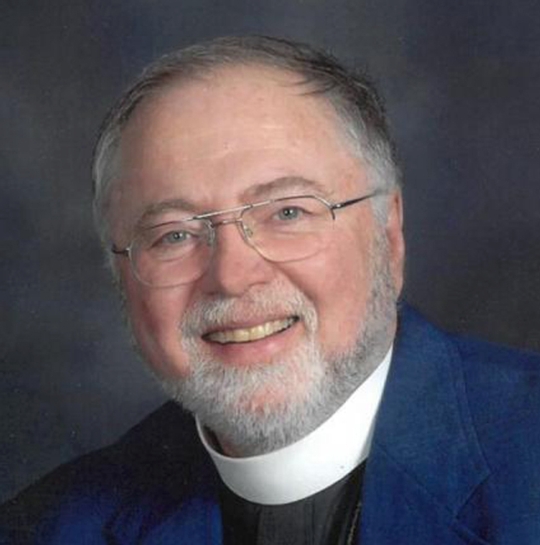 A Funeral Service for Pastor Rodney Keith Nygren of Roseau, MN will be held on Wednesday, May 24, 2017 at 6PM at Helgeson Funeral Home in Roseau, MN. Visitation will be held on Wednesday, May 24, 2017 from 4-6PM at Helgeson Funeral Home in Roseau, MN. Funeral Services will also be held on Saturday, May 27, 2017 at 1:00PM at Cross of Christ Lutheran Church in Welch, MN. Visitation will be held there one hour prior to the service. Interment will be held at Cross of Christ Lutheran Cemetery in Welch, MN.
Pastor Rodney Keith Nygren passed away on Thursday, May 18, 2017 at the age of 65.
Pastor Rodney Keith Nygren of Roseau, MN, was born October 9, 1951, in St. Paul, MN, to Keith Nygren of Swedish descent and Elayne Gligor Nygren of Romanian descent. They also had a son named Jeffrey.
Rodney was the apple of his grandpa Gligor's eye.
Rod started school a year early; therefore he was only 17 when he graduated from North St. Paul High School, home of the Polars, in 1969. During high school Rod worked at Kendal's grocery store and mowed grass at golf courses.
Rod and his family built, owned, and operated a sit-down Dairy Queen store in St. Paul near the 3M Corporate Office. The store was awarded the best-run store in the seven-state area. Rod learned his managerial and organizational skills at that Dairy Queen.
Rod graduated from Concordia College in St. Paul on November 23, 1983, with a Bachelor of Arts degree in American History and Contemporary Christian Thought. He earned a letter for his pitching in baseball. During his college years he spent time working as a counselor at Camp Onomia near Onamia, MN and also did maintenance upkeep.
Rod was employed at the 3M Corporate Office in St. Paul for several years, specializing in inventory control.
Rod met his farm gal, Garnet Peterson from Welch, MN, on April 18, 1986. They were married at Cross of Christ Lutheran Church in Welch, MN, on October 18, 1986, where Rod then became a member. They made their home in Hastings, MN, and were blessed with their three amazing children, Peter, Rene'e, and Karen while at Hastings.
Since a young boy, Rod had the desire to be a pastor and it was always on the back of his mind. The Lord and life in and with the church were always a part of Rod's life; as was Garnet's. So after considerable prayer and evaluation from the synod and with encouragement and support from Garnet, Rod entered Lutheran Theological Southern Seminary in Columbia, SC, the oldest seminary of the ELCA. Rod graduated with a Master of Divinity Degree with high honors on May 10, 1996, and was ordained on December 22, 1996, at Zion Lutheran Church in Cottage Grove, MN, where he had done his internship.
In January of 1997 the family sold their home in Hastings, MN and moved to Orfordville, WI, where Rod served as pastor at his first parish. Parishes to follow were at Peterson and Janesboro, MN, Belton, MO, and Messiah Lutheran Church in Roseau, MN. Rod served as interim pastor at Oakes, ND, and several supply pulpits including Little Fork, Oslo, and Grygla, MN, parishes.
Rod loved serving the Lord and preaching the Gospel. It was his passion. His sermons were always an inspiration to all who heard them.
Rod loved his mom's Romanian recipes, especially scovies, home-made chicken noodle soup, galuska, and chicken paprikish. He loved the Minnesota Twins and Vikings. The Wizard of Oz movies were where Rod got much inspiration when writing his sermons. It's always best to start at the beginning and there's no place like home.
Rod was preceded in death by his parents and grandparents, aunts and uncles, and cousins.
He is survived by his wife of 30 years, Garnet, of Roseau, MN; his boy Peter Kristian of St. Paul, MN, and his girls Renée Kristen and Karen Kirsten, both of Fargo, ND; his God-daughter, Laura (Tesch) Phelps of Spring Hill, Florida; sisters-in-law Lisa Peterson Tesch of New Port Richly, FL and Linda Peterson Smith of Red Wing, MN, (who always gave Rod loving encouragement and support); his mother-in-law, Nettie Peterson of Bay City, WI; cousins Jerry (Janet) Nygren of Shoreview, MN, and Marlene Miller of Mundelien, IL; many nieces and nephews, sisters-in-law and brothers-in-law.
We wish to thank Pastor Tim Lundeen who has been there for Rod and all of Rod's friends who have supported his ministry in the ELCA, NALC, and LCMC.
He is sorely missed.
Published by Helgeson Funeral Homes and Cremations Services