North St Paul High School
Class Of 1969
In Memory
Gordon Kochsiek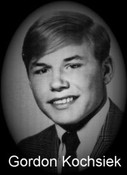 September 18, 1951 - August 20, 1999
Kochsiek, Dr. Gordon, M.D., 47 of La Crosse, WI, died on Aug. 20, 1999 in his home. He is survived by his wife Marilyn; children, Amy, Bethany, and Jennifer; his mother Barbara and siblings Ronald (Judy) and Kathy Brager (Bruce). Friends may call on Tues., Aug. 24th at Bethany Evangelical Free Church, 3036 Co. Hwy B, LaCrosse, WI from 5 to 8 pm. A Memorial Service will be held at the church at 11:00 am on Wed. Aug. 25th. Memorials may be directed to the Franciscan Skemp Foundation or to the LaCrosse-Mayo Family Practice Residency Program. Schumacher-Kish Funeral Home, LaCrosse, WI, 608-782-1252.
Published in St. Paul Pioneer Press , August 23, 1999
Recognizing the value of teaching amog other physicians at Franciscan Skekmp, the residents each year choose a medical staff member as Teacher of the Year. That award has been renamed in honor and memory of a much-beloved and respected general surgeon, Gordon Kochsiek, M.D., who died in 1999 at age 47. Residents twice voted him Teacher of the Year.
"The Gordy Kochsiek Award for Teaching Excellence" goes to the staff member that the residents believe is the best not only in teaching, but as a role model for how the physician should be in terms of compassionate care of the patient," said Dr. Rushlow, UW-LaCrosse residency faculty member.
"Gordy was an example. He was one of the best—an example of the dedication of the medical staff to the residency program."
Source: Franciscan Skemp Healthcare: A History 2002, pp 67-68