North St Paul High School
Class Of 1969
In Memory
Wendy Jespersen (Dodge)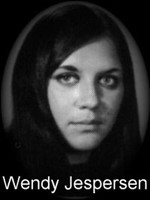 March 27, 1951 - May 7, 2007
Funeral services for Wendy Lynn Dodge, 56, of Mt. Lake, were held Saturday, May 12 at Brad­shaw Fu­neral Home in St. Paul. A memorial service was held Monday, May 14 at the Sherburn Assembly of God Regional Worship Center in Sherburn.
A private family interment was held Wednesday, May 16, at Fort Snelling National Cemetery in Minneapolis.
Wendy Lynn Dodge died Monday, May 7, at her home in Mt. Lake. She was born on March 27, 1951, in Ramsey County; the daughter of James and Emma (Dell) Jespersen In 1968, she married David Dodge.
One year later, they moved to California. While in Cali­fornia, Wendy taught work­shops on textiles and quilts, and also shared information on that topic at conventions and seminars. Photographs of some of her quilts have been published.
The couple lived in Greeley, Colo, for a time before return­ing to Minnesota, eventually settling in Mt. Lake. While in Mt. Lake, Wendy enjoyed teaching arts and crafting. She also kept busy teaching several Community Educa­tion classes in the county, working with 4-H clubs in the area, and with the activ­ity departments at the Leo A. Hoffman Center in Comfrey and the nursing homes in Mt. Lake. She taught Sun­day School in many different churches, as well.
Recently she had been do­nating her time judging 4-H projects, judging with the Mt. Lake/Butterfield-Odin speech team or at The Music Studio.
Preceding her in death was her father, James L. Jespers­en.
Survivors include her hus­band of 39 years, D. David Dodge of Mt. Lake; three chil­dren, Holly (Jason) Theobald of Madelia and Bryan Dodge and Joel Dodge, both of Mt. Lake; her mother, Emma Jespersen; two brothers and three sisters.
Published in the Mountain Lake Observer/Advocate 5/23/2007