North St Paul High School
Class Of 1969
In Memory
Genece Ferris (Freude)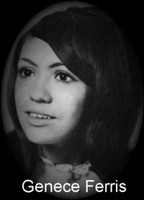 December 5, 1951 - July 29, 1999
Ferris (Freude), Genece T.
Ferris (Freude), Genece T., age 47, of St. Paul, on July 29, 1999. Preceded in death by mother, Bernice R. Ferris. Survived by father, George E. Ferris; brothers, Bob Ferris of Prior Lake, Tom Ferris of St. Paul; sisters, Georgene Leek, Genette Dies, and Gayle Rose Ferris, all of St. Paul; numerous nieces and nephews; and Don Freude. Memorial Service 10 AM Monday at WILLWERSCHEID & PETERS MORTUARY, 1167 Grand Avenue. 651-228-1006 .
St. Paul Pioneer Press - Sunday, August 1, 1999
Genece passed away on 7/29/99. I found her older brother lives about 20 miles from me and gave him a call. She passed away of a brain aneurysm. She was helping her brother and family pack things to move to their new home and when they went back to the house for more things she lay dead on the floor.