North St Paul High School
Class Of 1969
In Memory
Lynn Breedlove (Fleischauer)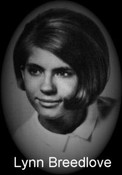 January 17, 1951 - November 7, 2002
Lynn Fleischauer, 51, of rural Chetek, died Thursday, Nov. 7, 2002, at her home near Chetek.
She was born on Jan. 17, 1951, in St. Paul, Minn., to Leonard and Eleanora "LuLu" (Marcusen) Breedlove. She married Gary Roy Fleischauer on March 14, 1981, in St. Paul, Minn. Lynn got a degree in Social Work from the University of Minnesota-Duluth and used it at many of her jobs, including the Stillwater, Woodbury and Dallas Nursing Homes, working as a social worker. She owned and operated the B & B Bar and Restaurant in Chetek for the past nine years, and then her daughter, Betsy, took it over this past year. Lynn was a graduate of North St. Paul High School. She enjoyed people very much. She loved to read and loved flowers, especially carnations. She enjoyed traveling and had gone to Europe and Australia. She was a member of the Tavern League of Wisconsin, the Chetek Chamber of Commerce and the V.F.W. Auxiliary.
She is survived by her husband, Gary of Chetek; daughters, Lizabeth "Betsy" (Mike VanBlaricom) Casper of Chetek and Julie Fleischauer of St. Paul, Minn.; son, Roy Fleischauer of Coon Rapids, Minn.; parents, Leonard and Mary Breedlove of Two Harbors, Minn.; in-laws, Allayne and Al Glover of Hibbing, Minn.; brother, Curtis (Elizabeth) Breedlove of N.Y.; three grandchildren, Brian Fleischauer and Coty and Samantha "Sammy" Fleischauer; two nieces, Claire and Nora Breedlove; sister-in-law, Janice (Joe) Mananz of Inver Grove Heights, Minn.; and other relatives and many friends.
She was preceded in death by her mother, LuLu.
A memorial services will be held Wednesday, Nov. 12, at 7 p.m. at Burnham-Ours Funeral Home & Cremation with Pastor Gregory Harrell officiating. Friends may call Wednesday, Nov. 13, from 4-7 p.m. at the funeral home.
Published in The Chetek Alert Newspaper on November 13, 2002